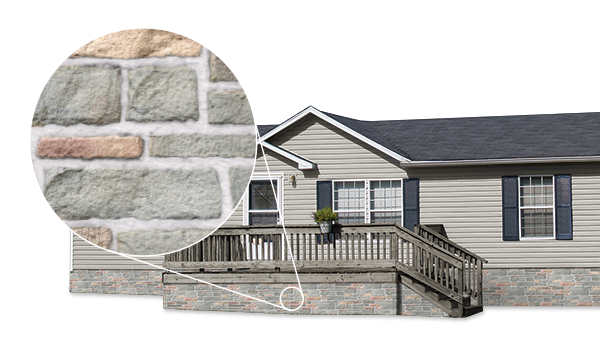 Give homeowners the look they want with an easy-to-install cladding product that eliminates compromises.
Homeowners are looking for manufactured homes that complement their unique style and taste. Existing siding materials limit design options or come with compromises that affect weight, durability, and transportability. Qora Cladding eliminates compromises for manufactured home builders by offering the look of authentic stone but in a simple, fast, lightweight, and cost effective siding solution.
Try Qora Cladding today:
Purchase 9 boxes (238 SF), receive 3 boxes (80 SF) for FREE*
What makes Qora better for Manufactured Homes and other Portable Buildings? 
Set yourself apart without the weight and hassle of masonry based materials
Simple Construction = Cost Effective
Qora gives manufactured homes the premium look of stone cladding without the weight and hassle of traditional masonry products and installation methods. Because Qora Cladding comes in easy-to-handle 20" x 48" panels, it's designed to install with basic carpentry tools and fit together seamlessly with disguised joints. The aesthetic beauty and time-honored look is indistinguishable from the real thing and will set your product line apart from the competition with a premium portable building offering.
Qora's Features:
Premium look that homeowners love
Lightweight, transportable, and durable
Will not rot, decay, buckle, or delaminate
Easy to handle 20"x48" panel size
Installs using standard carpentry tools
Indistinguishable from the real thing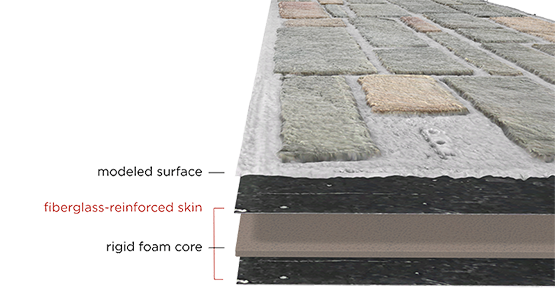 Request Information to Try Qora Today: 
Purchase 9 boxes (238 SF), receive 3 boxes (80 SF) for
 

FREE

*
For more information, contact Mike Maddern, Director of Marketing & Sales directly at: mike.maddern@arcitell.com or (615) 712-0455
* Terms of Promotion:
B2B sales only. Arcitell does not sell direct to homeowners/consumers at this time.
Minimum purchase of 9 boxes of cladding which is roughly 238 sf of coverage.
Material must be applied as an exterior cladding and/or accent.
Material must be applied to a structure within 60 days of receipt of materials .
Model structure must be delivered to retail lot within 90 days of receipt of material .
At least one picture of the finished model with a focus on the Qora cladding application AND written feedback provided to Arcitell.
* Eligibility and Rules:
Offer applies for qualified manufactured housing manufacturers only who are active members of the Manufactured Housing Institute.
Offer applies for new customers only and is valid thru 12/31/2020.
Arcitell reserves right to determine eligibility at its sole discretion.
Material credit will appear on invoice and will not exceed product material value based on twelve Qora Cladding panels regardless of amount purchased. Calculated amount based on material only (applicable sales tax and shipping/handling charges will not be credited).
Offer is not available to dealers, installers, homeowners, or other entities not explicitly stated or approved by Arcitell.
Arcitell reserves the right to modify this program or terminate it at any time with or without notice.